Local Beer Festivals
Planning your beer festivals, in our region, for the year ? Maybe this will help.
NB The menu item "Beer Festivals", over on the left, will take you to a national list.
Upcoming festivals in the West Midlands region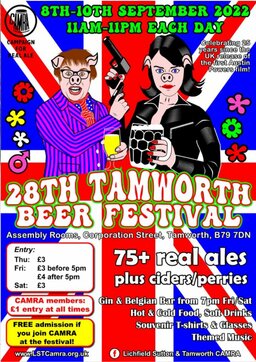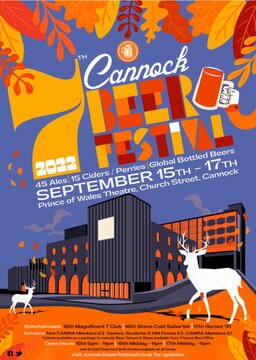 2022 Planned Festivals
Coventry BF 6th/7th May (two free pints for new members signing up)
Shifnal 9-11 June
Stratford Beer Festival 24-25 June
Bromsgrove 30Jun - 1 Jul
Redditch BF Jun/July
Kidderminster BF Aug/Sep
Shrewsbury BF 7-10 Sep
Tamworth BF 8-10 Sep
Cannock 15th-17th Sep
Kidderminster, Nov
Beer festivals not happening in 2022
Burton, postponed (from March) due to admission restrictions
Stafford, no suitable venue
Potteries
A rough calendar guide to our festivals.
Please visit the branch website for exact dates, venues etc.
---
Please notify any changes needed to this page, to ku.gro.armac.sdnaldimtsew@yraterces