Welcome to the West Midlands CAMRA region
---

The Region covers the majority of CAMRA Branches in Herefordshire, Shropshire, Staffordshire, Warwickshire, West Midlands (metropolitan county) and Worcestershire. The six county flags form the banner on the top of our pages, shewn in the order noted. There are twenty-six branches and sub-branches in the region. NB some of the county flags have been changed. If you're interested more info County flags


DUDLEY WINTER ALES FAYRE 2023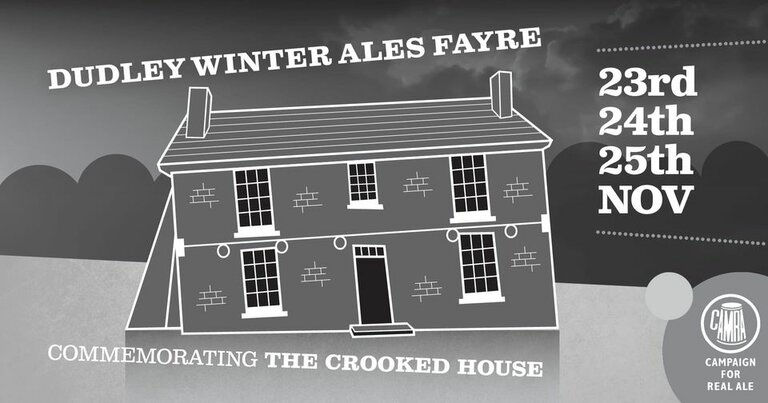 Dudley Town Hall, St James Road Dudley DY1 1HP
---
This is our Regions next upcoming festival please support it as a customer, volunteer or just spread the word if you can not make it there yourself.
---
Next Regional Meeting
12 - 3pm 2nd December 2023 Shropshire
The Snuggery Tap
Badderley Court, Newport, TF10 7AD There is a bus every 30 minutes from Telford, Oakengates and Stafford.
There will be a Regional Minibus picking up at 10 AM Rolf Street Station, Smethwick, 10.30 AM Malt Shovel, Dudley, 10.45AM Beacon Hotel, Sedgley, 11AM Wolverhampton Station. If interested please Text or Message RD to reserve a seat.
---
Current Regional Vacancies
Regional Secretary
Social Media
Regional Membership
AO Birmingham and Black Country
AO Staffordshire
Web Page Support
Regional Cider Officer
YOUR REGION NEEDS YOU !
The above posts are all vacant at the moment. As a region it is very difficult to function well with this number of vacancies. If you are interested in or would like to know more about any of the above positions please feel free to have a chat with the Regional Director, or any Regional Officer. At the moment the Regional Director is covering CBOB Coordinator, Web Support, Social Media, Regional Secretary and as expected it is not going well.
---
West Midlands Awards Ceremony
This years Ceremony Thursday 28th December 1pm at the Barton's Arms, Birmingham
Last years awards details and photos can be seen here: Regional Awards 2022
---
Pub of the Year
Please see the attached memos concerning Pub-of-the-Year (PotY), Club-of-the-Year (CotY)and Cider Pub or Club of the Year (CPotY) for 2024
Pub of the Year 2024 Pub of the Year Procedure
Club of the Year 2024 Club of the Year Procedure
Cider & Perry Pub or Club of the Year 2024 Cider Pub or Club of the year Procedure
Learn & Discover
---
Regional Diary
Contains regional & national events plus major branch events such as beer festivals. Click here for the Regional Diary
---
Branches diary
Contains all the region's branch diaries in one combined calendar. Plan your branch visits here ! Click here for the combined Branches Diary


---
Twitter / CAMRA_Official
Follow CAMRA_Official on twitter